Tian Xian Pei 天仙配 (China 1956)
Tian Xian Pie 天仙配 ist die Verfilmung einer gleichnamigen Huangmei Oper (Huang Mei Xi 黄梅戏) . Berühmt wurde diese Oper durch die 1953 in Hefei gegründete Anhui Provicial Huangmei Opera Troupe (seit 1988 Anhui Huangmei Opera Theatre) und die Verfilmung ihrer Produktion "Die himmlische Prinzessin und der Sterbliche" 1956 mit Yan Fengying 严凤英 und Wang Shaofang 王少舫 in den Hauptrollen.
Tian Xian Pie 天仙配 is a film production of a Huangmei Opera (Huang Mei Xi 黄梅戏) of the same name . This opera got famous by Anhui Provicial Huangmei Opera Troupe, established 1953 in Hefei (since 1988 named Anhui Huangmei Opera Theatre) and their 1956 film production "Godess´ Marriage" starring famous actress Yan Fengying 严凤英 and Wang Shaofang 王少舫.
KURZINHALT: Der Vater von Dong Yong stirbt. Um das Geld für das Begräbnis seines Vaters aufzubringen, muß er drei Monate als Sklave für die Familie des Großgrundbesitzers Fu arbeiten. Die siebte Tochter des Jade Kaisers hat Mitleid mit Dong, kommt auf die Erde herunter und heiratet ihn. Als die beiden nach Ablauf der Frist die Familie von Fu verlassen um wieder nach Hause zu gehen, befiehlt der Jade Kaiser der Göttin in den Himmlischen Palast zurück zu kehren. Die Eheleute trennen sich nur widerwillig.
The Story: Dong Yong's father dies. In order to raise money to bury his father, he has to serve as a slave for three months in Landlord Fu's family. The Jade Emperor's seventh daughter, who sympathizes with Dong, descends to the world and marries him. However, when the two leave Fu's family for home, the Jade Emperor orders the goddess to return to the Heavenly Palace. The husband and wife part reluctantly.
Klangbeispiele / Soundsamples:
(zugänglich auf der Projekt Info CD / available on project info CD)

Listen 路遇成

Listen 满工分别
QUELLENANGABE / SOUNDSOURCE:Tianxian Pei from SCD-078 (ISRC CN-E01-94-0021-0/A J8) Huang Mei Xi Tian Xian Pei (Huangmei Opera : The Cowherd and the Girl Weaver), sung by Yan Fengying, Wang Shaofang, etc., accompanied by the Band of the Huangmei Opera Troupe of Anhui Province. ©1994 China Record Corporation, Shanghai (VR China). FOR PRIVATE USE ONLY! DON´T COPY OR PERFORM PUBLICALLY!
The Legend of Love 牛郞織女 TV Serie (Hongkong 2003)
The legend tells that every year on the seventh day of the seventh month in the lunar calender, the Cowherd and the Weaving Girl will meet on the Bridge of Birds in the Milky Way. This romantic date on the Seventh day holds behind it an ill-fated love affair between an immortal and a human.
In the heavenly palace, the weaving girl is responsible for weaving the colourful clouds, but she accidentally drops the cloud loom shuttle into the mortal world and this is seen by the Jade Empress, who sends Weaving Girl and her friend Magpie down to the mortal world to find the shuttle. Weaving girl meets with Cowherd on the earth and he works hard to make her a new shuttle, she falls in love with him and always sneaks away to go and meet with him. This is discovered by the Jade Empress and Weaving Girl is called back urgently to the heavens. She will not let go of her true love and would rather let go of everything in the immortal world and become a mortal, but finds that Cowherd has had his memories wiped clean by the Empress...
On the other hand, Magpie wants to become immortal more quickly so she steals the fortune cloth from the fortune god Bei Gon and sets about helping the poor people to reap their reverence. Bei Gon finds out and reports back to the Heavenly Palace and thus becomes enemies with Magpie, who finds out that he is without a heart and gives him the heart of a wolf as a joke. After this, Bei Gon's personality changes and he constantly works against the Cowherd and Weaving Girl. Magpie realises she has caused trouble and calls for help from the Seven-tailed Fox to retrieve Bei Gon's "Seven Skilled Heart".
Cowherd and Weaving Girl finally meet again in the mortal world, but are almost left with nothing after the interventions of Bei Gon. Weaving Girl is not prepared to see Cowherd's family suffer and bears her pain to return to the heavens. Magpie sees this and calls up her friends to form the Bridge of Birds, allowing the two lovers to meet once a year on the bridge...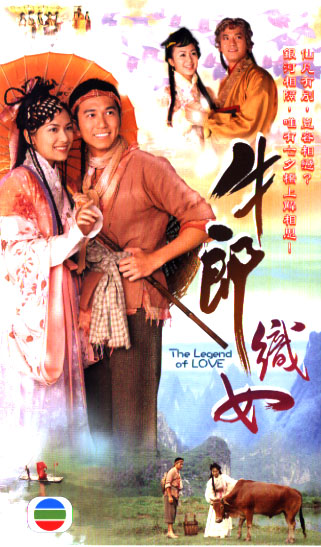 TVseries "The legend of Love", TVB 2003
Theme song Content of all episodes
Website:
http://legendoflove.freehomepage.com/main.html
Chirusoku no Natsu チルソクの夏 (Japan 2003)
"Chirusoku no Natsu" ("The Stars Converge"), directed by Kiyoshi Sasabe, tells the love story of Japanese girl, high school student Ikuko Endo ( Mizutani ) and her boyfriend, South Korean high school student An Daiho ( Junpei ), against the backdrop of Japanese bias against Koreans, who in turn harbor anti-Japanese feelings, and the situation in South Korea at that time.
They met in July, 1977, on the occasion of the High School Athletic Meeting for Friendship between Pusan (South Korea) and Shimonoseki,Yamaguchi Prefecture / Kyodo (Japan) being held in Pusan and made a promise to meet each other again in Shimonoseki after 1 year. Both of them, although faced with political and social obstacles, discrimination and prejudice stemming from a background of nationalistic sentiment in Korea and Japan at that time, managed to overcome these obstacles and fulfilled their promises.
One year later, in Shimonoseki, on the night of Tanabata, after the Athletic Meeting for Friendship, they both slip out of a party and walk through the Kanmon Pedestrian Tunnel. In the tunnel they saw a white line indicating the boundary between Yamaguchi Prefecture and Fukuoka Prefecture and they crossed over it...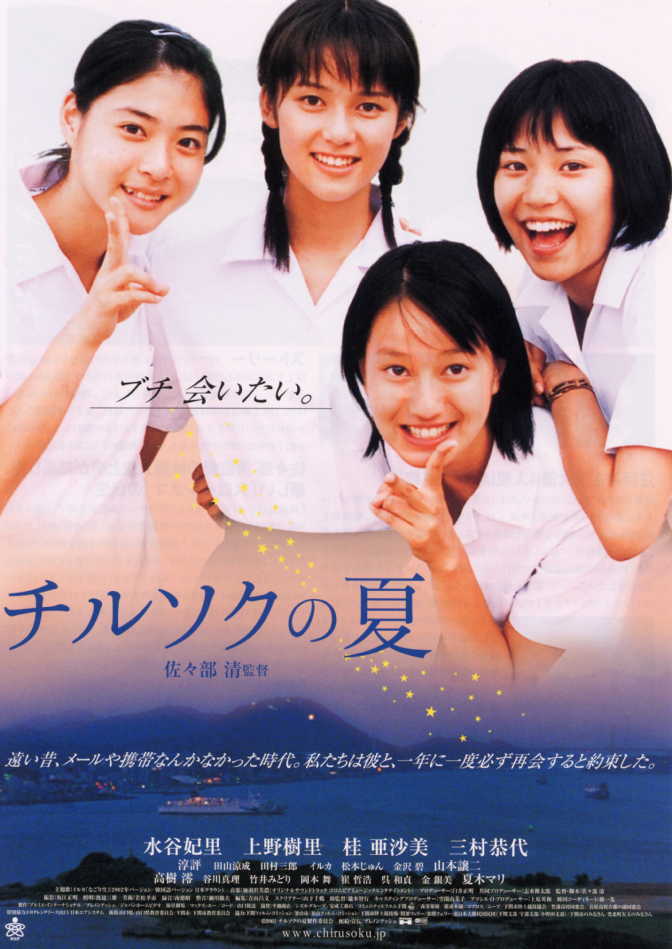 Titlesong by singer-songwriter Iruka: "Nagori Yuki" (The Remaining Snow,Lingering Snow).
Iruka rerecorded the song in Korean and appears briefly in the movie as the high school teacher. Iruka was born in Tokyo. She formed a folk group while she was at Art University for Women in Japan. She made her solo debut as a singer in 1974. The following year, in 1975, she had her first huge hit with "Nagoriyuki" (Lingering Snow), now title song of Chirusoku no Natsu, which established Iruka as a well-known singer. In 1978, her first son was born, and she left the spotlight for 2 years while caring for him. Iruka is also an essayist and has published a children's picture book series entitled "Little Sky", a 4-book series.
Websites / Links:
Official Website: www.chirusoku.jp

Trailer: www.chirusoku.jp/trailer

Director´s Website: www.sasabe.net

Yuri Mizutani´s Website: www.spacecraft.co.jp

Junpei´s Website: moffice.cside2.com

Making of: chirusoku.navitown.com

Movie scenes: www.chirusoku.jp/movie; Additional stuff

Soundtrack CD: www.cdjapan.co.jp

Movie DVD (Japanese only): www.cdjapan.co.jp
Nguu Lang Chuc Nu Ngưu lang Chức nữ (Vietnam 2004)
Thanh Sang - Ng›u Lang
Bạch Tuyết - Chức Nữ
Žt Bạch Lan - T'y V›žng Mẫu
Hoýi Thanh - T'm ­iển
H˜ng Minh - B· Hộ
Bảo Quốc - Ph›žng Thảo
Ph›žng HỒng Thủ - BÙng
Bảo Chung - Bạch Trần
Thýnh Chiến - Hắc Thần
Thýnh Lộc - Ng›u Tử
Hồng Thuỷ - ThÙn Nữ
Mai Khanh - Vợ B· Hộ
BÈ Bảo Tr'n - Chức Cầm