A Taste of Zink-o-lution
In June 2008 S.Holzbauer has been chosen one out of 100 selected Polaroid artists to participate in polanoid.net's Zink-o-lution Project and has been provided with 10 sheets of ZINK paper™ before general availability to explore this media without using the Polaroid PoGo™ printer.
Project ZINK O LUTION (2008-06-03 till 2008-06-25)
After carefully examining over 500 applications we just sent out 100 packs of sealed top secret Zink paper to 100 hand selected genius ZINK EXPLORERS. After more than 10 years of scientific development, this paper will be in the hands of 100 outstanding Polaroid masterminds shortly, spending 26 hours a day to investigate this new breathtaking media beyond it's limits. Their revolutionary findings, the very first ZINK manipulations ever, will be uploaded to this project presenting the world nothing less than the ZINK-O-LUTION!
POLANOID.NET
ZINK™ is a breakthrough technology that produces on-demand color images and photos - without ink, ribbons or toner. The key to this process is the patented ZINK Paper™, an advanced composite material with cyan, yellow, and magenta dye crystals embedded inside and a protective polymer overcoat layer outside. Before printing, the embedded dye crystals, named Amorphochromic™ crystals - an entirely new class of molecules, are colorless, so ZINK Paper™ looks like regular white photo paper. A ZINK-enabled device, e.g.Polaroid PoGo™, uses heat to activate and colorize these dye crystals. The heat pulses are of precisely determined duration and temperature to achieve any color under the rainbow.
S.Holzbauer presented 6 of his best works on ZINK paper™ in the KGS - Kuenstlergilde Salzkammergut 80th anniversary member's art exhibtion "WE" during the Upper Austrian Provincial Exhibition 2008 at the Kammerhof Gallery of the City of Gmunden in Gmunden / Austria from July,6th – August,3rd 2008. This was the first presentation of ZINK art in an art exhibition worldwide. (This fact earned Holzbauer the title of the "first official ZINK artist")
Displayed were the works zink 05, 09, 10, 08, 04, 07 (2" x 3", ZINK paper™ treated with different heated tools). Additionally, zink 09, 08, 07 have been scanned and printed by an Epson Stylus C 84 printer on Epson DURABrite Photo Paper in A4 size. So there is a transformation from ZINK (Zero ink) to RINK (Re-inked) which highlights the beauty of colors in detail.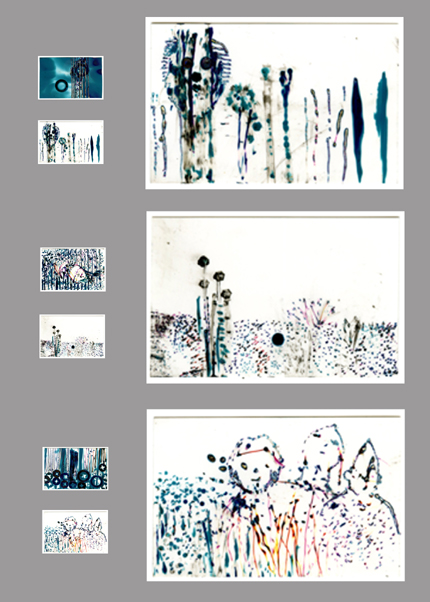 Meanwhile S.Holzbauer is in close contact with ZINK Imaging,Inc. and is featured at their ZINKTM Art Gallery
S.Holzbauers ZINK works have been presented at these exhibitions:

Geometrie + Konzept
Oct.17 - Nov.16, 2008
Kammerhofgalerie, Kammerhofgasse 8, 4810 Gmunden / Austria


Kunst.Messe.Linz (Art.Fair.Linz)
Nov.22-23, 2008 (opening: Nov.21)
Landesgalerie Linz, Museumstr.14, 4010 Linz / Austria

CES (Consumer Electronics Show)
Jan.8-11, 2009
Las Vegas Convention Center / Central Hall, Las Vegas / Nevada, USA
Watch S.Holzbauer´s video: How ZINK has changed my work as a media artist
Links: